15.09.2023 | Authors: Edda Forero, Azeneth, David Aragort y Soledad Magnone
Para leer en español, cliquea aquí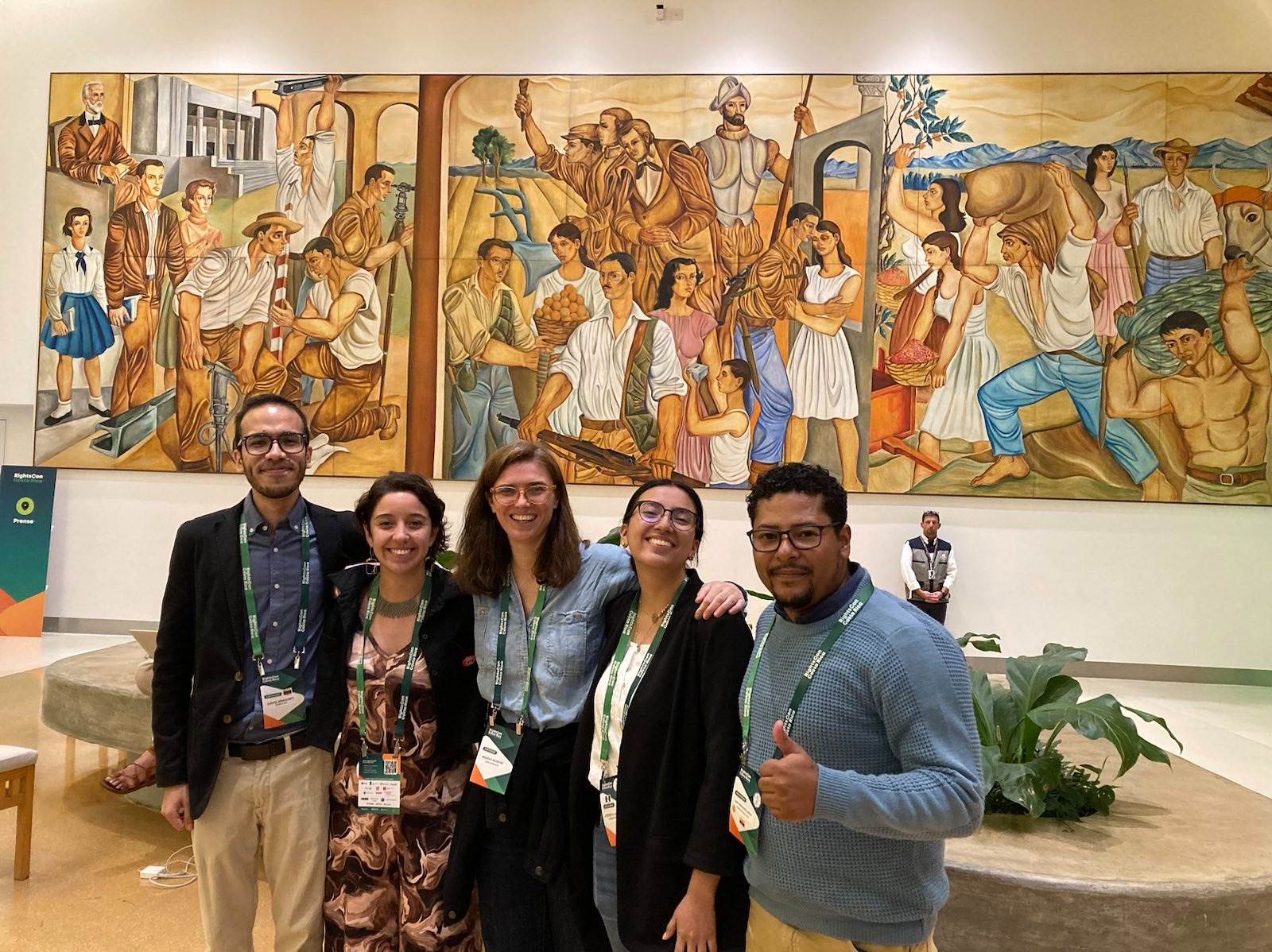 (Soledad) In 2011 I started working as a researcher for a Uruguayan government programme in educational technology. Plan Ceibal was innovative at the time, providing laptops to students and teachers, and connecting public schools, poor neighbourhoods and public spaces to the internet. The impact of technology on academic and social development was not easily evident, especially before the massive expansion of the internet, smartphones and the digital acceleration of COVID-19.
Trying to make sense of these questions, I pursued studies in Europe on the intersections between digital technologies, society and education. In this region, around 2015, digital agendas marked a shift in debates and actions to address the connection between digital technologies, human rights and children's rights. These focused particularly on the implications of the digital age for privacy, protection and participation, recognising that they enable a wide range of other fundamental rights.
Identifying a large deficit in educational strategies related to these issues, in 2020 I launched the JAAKLAC initiative. This aims to research and advocate for critical digital education and youth participation, with a focus on Latin America and the Majority World. JAAKLAC projects have been different iterations, limited in time and collaborative with different youth groups, teachers, activists, artists, among other different actors. At RighstCon Costa Rica 2023 we did a fine-tuning to decode some key aspects of the road travelled in a series of roundtables called "Encounters and Dialogues: Critical Digital Education (EDC) for all".
In this blog we talked with Azeneth, Edda and David from Causas Digitales summarising the notes from the RightsCon roundtables, conversations with the campaign team and personal reflections. We begin by sharing impressions on the relevance of education and its role in contemporary societies. These perspectives on education will then be connected to digital technologies and human rights in the following publications of the EDC campaign.
Why is education important for people, society and our environment? Why has it been important for you?
(Edda) It is important because it is a scenario for learning, knowing, and recognising ways of thinking, ways of acting in the world and accessing different knowledge that nourishes the experience of being human. For me it has also been important to learn to question and have a criteria. It has been an opportunity to live with experts and other people from different contexts. It is also a way of disseminating and translating abstract knowledge through games, talks, round tables and, of course, through reading and writing. For me it has shaped how I see the world, my interests, my voice with others.
(AC) Without a doubt, education not only allows us to learn about our environment, but also serves as a tool for self-knowledge. It allows us to broaden our panoramas where along the way we learn to name what is around us, what is truly valuable in a reality where what is not named is not recognised.
What are the differences between formal and informal education/popular education? What are the motivations, challenges and opportunities of informal education?
(Soledad) There are currently several emerging issues which awareness raising, education and research are being addressed by civil society organisations and activism. These involve critical issues of reality in order to progress as freer, more open and democratic societies. Unfortunately, these issues have traditionally been poorly covered by the formal education system. For example, women's rights, LGBTQIA+, people with disabilities, afro and indigenous communities, children and youth. Civil society has addressed these challenges with diverse actions in informal or popular education, to mitigate discrimination, colonialism, extractivism, violence, censorship and oppression.
(David) It poses civil society organisations as learning spaces, which allow people from different contexts (rural and urban areas) relate to each other through specific themes, thus creating a community around learning about these issues.
(Edda) Informal education makes it possible to generate a different social fabric, perhaps more durable over time, as the motivations are based on a common interest in learning between the parties - both those who transmit it and those who internalise it.
(CA) Informal education covers current issues, issues that affect us and that are rarely touched upon in formal education. For this reason, it is important to bring the educational needs of the present into the curricula of formal education, an education that does not omit the realities that are being experienced in the region.
What education has been privileged at the moment (subjects, didactics, systems…)? What are the motivations, challenges and opportunities of this prioritisation?
(Edda) An education that complies with the standards of a curriculum, set to respond to educational indicators, has been privileged. The motivations behind this educational approach are to provide an education that is standardised and measurable in administrative terms rather than in terms of results. Thus, the system in which one person is the bearer of knowledge and it is transmitted in a linear way to the students has been privileged. It is thought of as a transaction of money for knowledge and assumes that all students have the same learning process.
Although it is necessary to ensure that there is measurable learning, these indicators often do not correspond to the contextual needs of each region. In this sense, education has been privileged as a means to access better job opportunities, and the learning of soft skills such as interacting with others, collaborating and creating has been left aside. This is a collective knowledge, to face the challenges of life not only in a work environment, but also to face the complexities of our societies.
The challenges exclude knowledge and skills needed to cope in today's world, such as learning mathematics with finance. Or English with cultural exchange situations. The opportunities are that they can be transformed into learning spaces that are aware of the applicability of these contents in the real contexts of the learners. In which, by means of differential approaches, the same contents can be learned.
Be part of the dialogue:
Connect with the other blogs, podcasts and activities of the Critical Digital Education for All campaign.

From 15 September we will be sharing key findings on social media from JAAKLAC (@jaaklac #EducacionDigital #DigitalEducation) and allied organisations.

On Saturday 16 September we will be at the Feira Global Gathering stand expanding conversations and partnerships to research, create and advocate for quality digital education.

We are waiting for you! We will dynamically update at the campaign's site the links to articles, podcasts and upcoming activities.
Send us your ideas, questions or comments to jallalla [at] jaaklac [dot] org.